Biography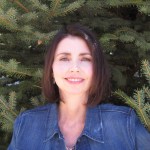 Julie and her husband, John, have been married for fifteen years. They were foster parents for nine years, caring for six beautiful children, until an encounter with cancer prevented them from renewing their foster care certification.
Loving stories and adventures, Julie has traveled numerous times to her mother's family in Ireland. She especially enjoyed listening to the family's oral history and schemes over pots of tea and biscuits. England, Canada and Mexico round out her international travels and interning in Washington D.C. tops her favorite domestic adventures, to date.
These days, Julie and John make their home in Colorado with their three children and rescue dog. On any given day, Julie can be found cooking with or for her always-hungry family, avoiding housework whenever possible and dreaming up the next adventure–whether it will be on the page or in reality. Or both.